Pure Revolution is run by two sisters-in-law, Emily and Emma, who are passionate about lowering toxic chemical exposure and ways to do this for themselves and their families economically. Emily and Emma both share an interest in natural health, nutrition, environmental protection and improving the quality of daily life.
Emily and Emma started spreading the exciting news about soap nuts and all their benefits at local markets, along side organic farmers and homemade goodies. Then they also did expos and conventions sharing the soap nut discovery with all they could.
They discovered soap nuts when Emma was searching for a non-toxic option for washing her first child's cloth nappies. Delighted at the success with washing nappies, they soon started using soap nuts for all their laundry needs, as well as a general household cleaner and dishwasher detergent.
In January 2013, Emily and Emma signed up with dŌTERRA essential oils and have continued to be amazed and impressed at the impact these oils can have on health, wellness and wellbeing.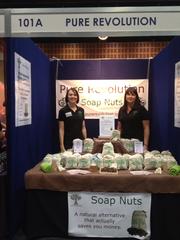 The pair now regularly run workshops on a range of topics, including fermenting food for improved gut health, raw foods, DIY home cleaners and cosmetics, and an introduction to essential oils. They are also available for in-store demonstrations of soap nuts with their current and new stockists.
To discuss bulk or wholesale purchases of soap nuts, please email info@purerevolution.com.au. Enquiries invited from resellers including co-ops, schools, child care centres, health food and organic stores, eco-friendly businesses, cloth nappy retailers, market stallholders, etc. Minimum quantities do apply. Contact us here.
Take a look at our YouTube channel below and learn more about the amazing ways soap nuts can benefit you, the environment and your budget…