Why soap nut liquid is so popular?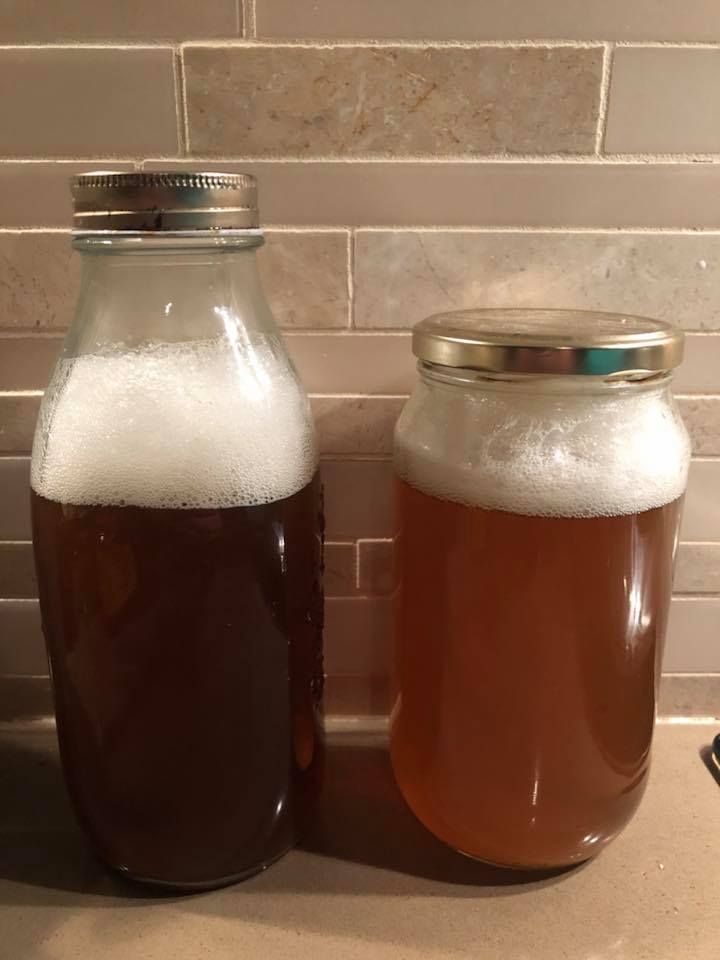 So what is all the fuss about? I know what you are thinking, how good is this soap nut liquid and do I really need to know how to make it? You may already have some 'natural' environmental friendly economical option, so why bother? Well I can tell you soap nuts are something else. Firstly you can't get any more natural than a soap nut, it is literally a berry that mother nature made so you can clean. Clean your clothes, your home and even yourself. It has no fillers of any kind, it doesn't endanger the lives of those making it or using it, its gentle and kind to skin and it's also the cheapest way to clean practically everything!
So why make soap nut liquid?
When making soap nut liquid the purpose is to release the saponin (natural soap) from the nut/berry, to achieve this it needs to come in contact with water. That's why its recommended to keep soap nuts in a dry, as the water will basically activate them. When the saponin is released it becomes an amazing cleaning product. Different strengths can be used for different purposes. For example, the water to saponin ration is different in a washing load than it would be for cleaning a bathroom sink etc. Which is why making a soap nut concentrate is the best way to go. You can use the concentrate as needed for each application. See below for the use measurement guide.
Soap nut liquid allows you to use the magic of soap nuts in so many more ways, not only is it easier and faster to use liquid in your washing, but also for a general purpose cleaner, a window/glass cleaner, stain remover, dishwashing/dishwasher, toilet cleaner, headlice treatment, handwash, facewash, oven cleaner, dog wash – you name it, people keep coming up with more and more uses for the liquid. I have even used it to get biro out of a grey leather car seat – spray some so nut concentrate onto the area and lightly scrub with an old but clean toothbrush.
How to make soap nut liquid?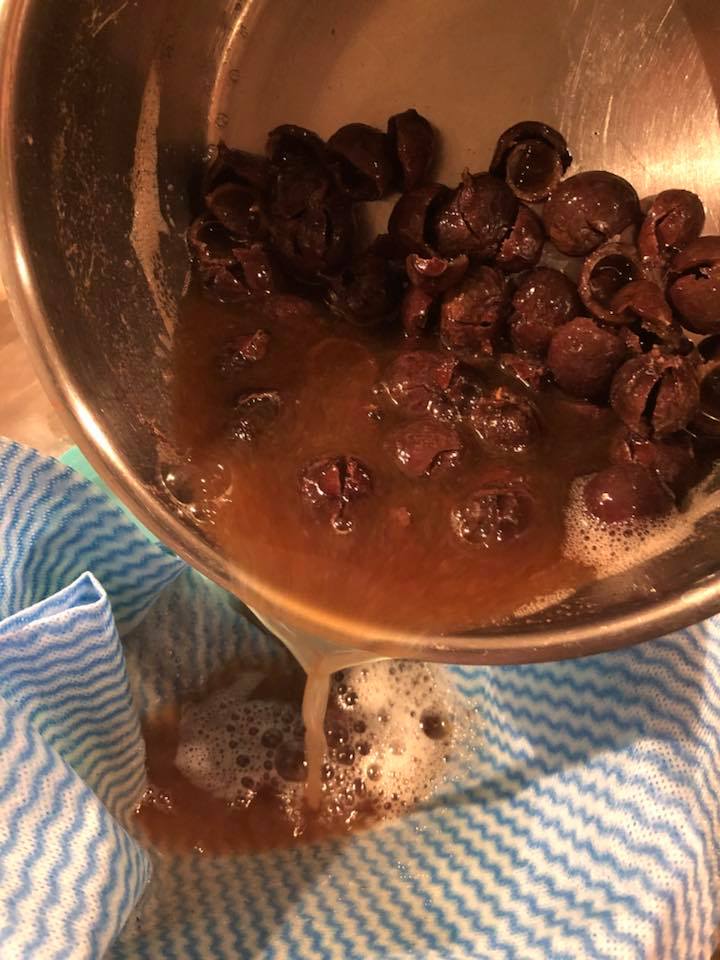 So how do you make soap nut liquid? Well if you can boil water you are pretty much there! Yep that is right to make a standard batch simply boil 6 cups of water and 10 soap nuts in a saucepan. Once boiling reduce the head and simmer for about half and our, the water will reduce. When soap nuts are heated in water they tend to release an almost apple cider vinegar smell, so I tend to leave my rangehood on for this part just in case. Allow the liquid to cool for a while, then simply strain the liquid through the a muslin or clean dishcloth/chux (this is helpful to remove all the pieces because when you want to use your liquid in a spray bottle extra you want it as clean as possible). You can compost the water logged nuts once you are finished or you can actually boil them again and make a smaller batch with approx. half the original water. This is because the most of the saponin has already been released but most still have enough left in them. Then you can mix both liquids together.
If you decide to make a double batch or have more than you need, I recommend keeping any excess liquid to requirements in the fridge or a cool dark place, especially if you live in a hot area, as there are no preservatives or fillers etc, therefore the heat can cause it to go a little rancid.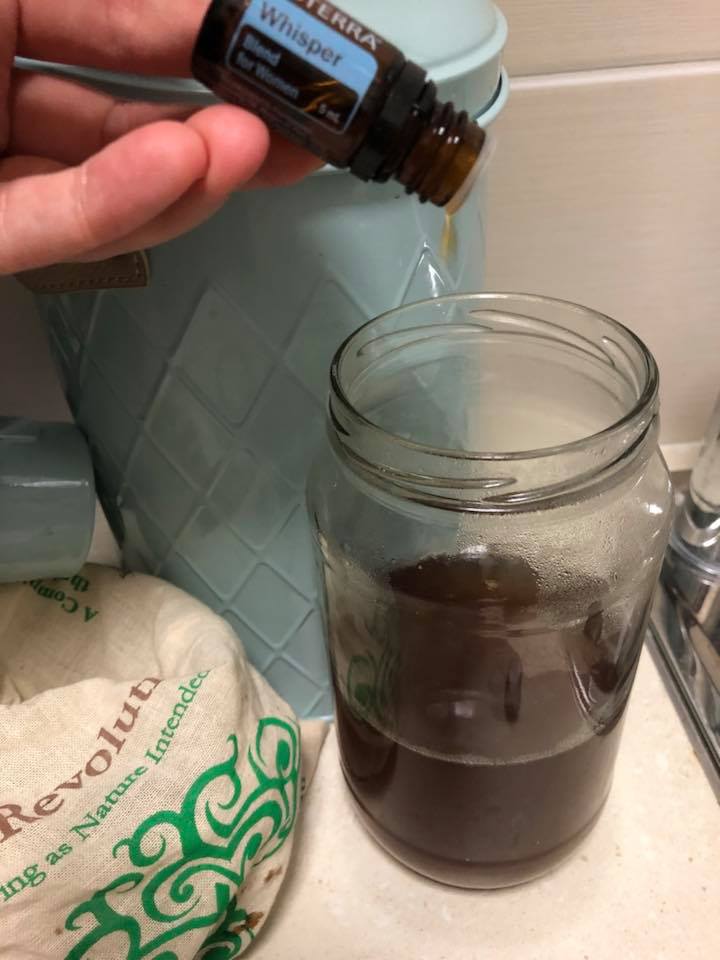 Now for some fun. When cleaning with soap nut liquid, whether it be your laundry or your bathroom sink, the liquid doesn't really have a smell, and if you are like me and like to have a slight natural fragrance you can easily add essential oils to the liquid – one of the bonuses of using soap nut liquid! Depending on the brand of oils, you should only need a few drops for the bottle of concentrate. I tend to use doTerra Wild Orange in my bathroom soap nut cleaner spray bottle, Ylang Ylang in my laundry liquid and sometimes even a little lavender in my handwash. For handwash remembering there are no chemicals to make the bubbles there are the usual foam and froth, it still does the same job you just have to retrain your brain on what makes clean, sometime bubbles just equal more chemicals. So for handwash etc, we suggest using a foaming dispenser, particularly if you are using the liquid for handwash or hand dishwashing liquid, this way people wont use too much while they are learning that bubbles aren't what really clean.
How to use soap nut liquid?
There are so many different ways to use soap nut liquid, the options are endless. Below are listed some of the most popular ways, the first of all these steps is of course to make the liquid, then the cleaning world is yours for the taking…
Laundry liquid – For a standard load in a top or front loader we recommend using 30-60ml (depending on the size).
General Cleaner (Floor, bathroom, toilets, benches, surfaces etc.) – In a spray bottle put in 1 part soap nut liquid to 4 parts water.
Dog Shampoo – In a bottle combine 1 part soap nut liquid to three parts water. Ideally a squeeze bottle works best for this purpose.
Glass Cleaner – In a spray bottle put 1 part vinegar, 3 parts soap nut liquid and 6 parts water.
Hand Wash – In a foaming dispenser put 1 part soap nuts to 4 parts water.
Dishwashing Liquid – Either in a foaming cleaner if you feel like you need to see bubbles or a squeeze bottle put 1 part soap nut liquid to 3 parts water.
*You can add fragrance to any of the above if you wish – recommend perhaps not for the glass cleaner, no one goes and sniffs the mirror now do they!
And the list goes on. Just start with the liquid in the laundry for your washing and a spray bottle for general cleaning and as things come up use the soap nut liquid first – it will surprise you like it did me!
Send us a message anytime with questions, new recipes or uses you have found of soap nuts, we would love to hear from you – click here.