Soap nuts or soap berries as they are sometimes called, are nature's perfect solution to washing and cleaning. Soap nuts are the small outer shells of a berry grown on trees. The soap nut flesh contains saponin, a naturally foaming surfactant which acts like detergent when immersed in water. This creates a 100% safe, natural and chemical-free substitute for normal detergents.
Grown near the Himalayas, Northern India, soap nuts have been used for centuries throughout Asia for their many cleaning and medicinal properties.
As well as caring for your family by lowering their toxic chemical exposure, every wash with soap nuts is making a positive difference to our waterways.
Benefits of using soap nuts in your home:
Do your laundry from as little as 10c a wash
Completely natural
Anti-Inflammatory
Non-Allergenic
Antibacterial
Antimicrobial (ie. a natural disinfectant)
Environmentally friendly
Soap nuts can also be used as an effective head lice treatment, nappy wash, dishwashing liquid, hand soap, glass cleaner, general household cleaner… and much more. They are most commonly used as a laundry detergent by using whole (in a calico bag) or as a liquid.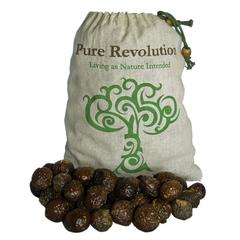 See the Washing With Soap Nuts and the Making Soap Nut Liquid pages for details on how to make the most out of your natural soap nuts.
Pure Revolution soap nuts are cultivated through sustainable agriculture and are Fair Trade.